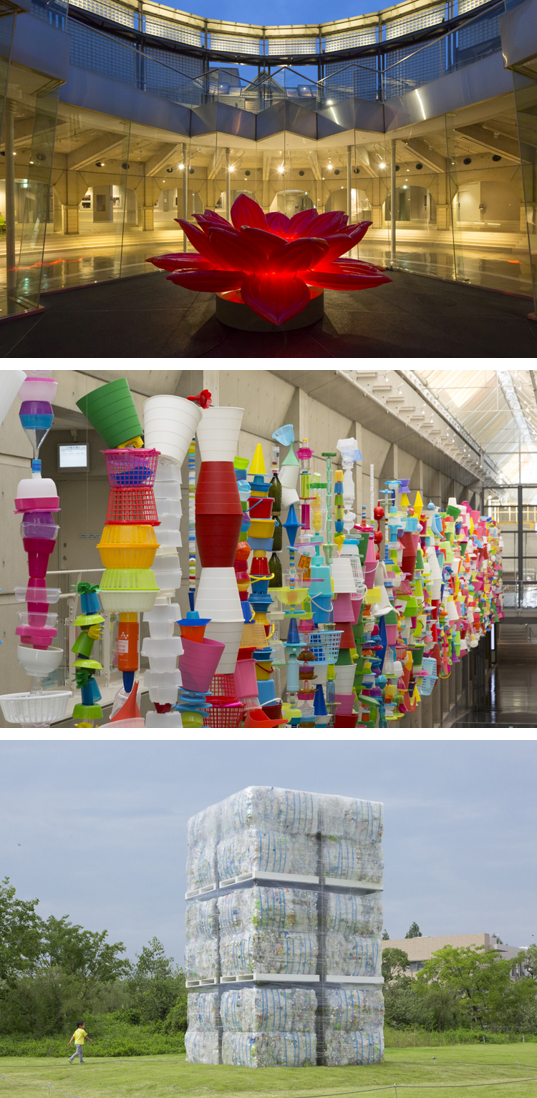 photo: KUTSUNA Koichiro, Arecibo
photo: KUTSUNA Koichiro, Arecibo
photo: KUTSUNA Koichiro, Arecibo
Breathing Flower
Happy Happy
He is going to set up a huge open-air sculpture, using recycle plastic cube produced in Saitama. Prior to the festival, his older work 'Breathing Flower' will also be exhibited at different parts in the city.
Happy Happy: Special Cooperation: Saitama Arts Foundation
SaitaMandala
CHOI Jeong Hwa is known for making statues with broken champagne bottles, or huge-scale objects with everyday items in our daily life. SaitaMandala features plastic bottles, which has now become a symbol of the consumption society. All plastic bottles used in this work arrived at SAKURA Environmental Center. We citizens are all automatically participating in this work in a way by using and discarding plastic bottles. SaitaMandala will exist during the exhibition period in order to exhibit and expand the meanings behind citizens taking part of production of an artwork, or the meanings of the material itself and the production processes of the artwork—but then the work will be disarticulated and recycled again once the exhibition period finishes, renewing itself into another new material.
SaitaMandala: Artist Support: Atelier RING Yasuyuki Aoyama, Registered first-class architect office STUDIO SO Kazuo Takahashi
作品展示場所